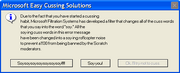 The World of Speakonia is a comedy series made by a1130 using the programming language Scratch (which can be found here).
The World of Speakonia

Instead of most shows, The World of Speakonia uses text to speech voices instead of human voice actors.

Style:

Comedy

Status:

Airing (2011-present)

Current episode:

Episode 2

Cast:

Adult Male #1, American English (L&H Peter) as Radar Overseer Scotty, Microsoft Sam as himself, Microsoft Mike as himself, Microsoft Mary as herself, Adult Female #2 American English as Linux Anna, RoboSoft One, Two, and Five as The Information Robots, AT&T Natural Voices Andrali as Radar Overseer Vikram

Channel:

Channel A1130 (A1130TV)
The comedy was the result of some boredom and a few YouTube videos. a1130 had recently watched some of the YouTube comedian ThunderBirds101's videos of Microsoft Sam reading funny Windows error messages. He had also recently downloaded Speakonia, a TTS voice program. Heavily influenced by the comedy style of ThunderBirds 101, he decided to create a comedy show similar to his videos. Unlike most "shows" made with the Scratch programming language, a1130 used Speakonia's TTS voices instead of human voice actors to create characters.
Episodes 1-6
Edit
Episode 1
Edit
The first episode was a simple "audio-only" show. A1130 intended it to be like "one of those radio shows you listen to while on a car ride." The story starts in a fictional city called Speakonia, at a "Grand 2011 Speakonian Ball." The main character and protagonist Microsoft Sam becomes concerned about his contemporary Radar Overseer Scotty's obcession for "egg salad tuna bacon lettuce potato tomato tuna crab salmon" sandwiches at the party, and decides to distract him away from eating them. However, Radar Overseer Scotty accidentally drops his sandwich and rants about how much he hates Microsoft Sam, and also introduces his soon-to-be-famous running gag, "He took the life of the amazing egg salad bacon lettuce potato tomato tuna crab salmon sandwiches!" As a result, the "Grand Speakonian War" starts. The Microsoft voices decide to send a trojan virus infected email to the Radar Overseers with the subject "Cyber Cake." Scotty gets extremely mad when the trojan destroys his computer, and he sends the story about the war to Speakonia's fictional newspaper, "The Daily XPaper." The result was a breif interview with Microsoft Sam (due to the fact that he refused to answer most of the questions). Scotty starts to rant (again) about how much he hates Microsoft Sam and then the episode ends with a "NO SIGNAL" image.
Episode 2
Edit
A1130 declared Episode 2 as a "Special TV Broadcast." Despite the fact that the episode was supposed to be a continuation of episode 1, it seemed to be entirely different. The episode starts with Microsoft Sam in his home, suddenly realizing that he curses frequently. When going on to his computer, he realizes that a cussing filter has decided to change his cuss words into the word "soi." Unfortunately this is bad for Microsoft Sam because of his "roflcopter" glitch that mispronounces the words "soi" and "soy." Then, "Steve Ballmer" (in real life, the CEO of Microsoft) activates a virus on his computer that makes Microsoft Sam curse more frequently. Also, the virus makes his computer look like Windows Vista. Sam gets mad and cusses more often. Then his brother, Microsoft Mike asks if he can remove the virus, and Sam says "yes." This introduces a famous phrase- "If you look at it one way, it is very simple. First kill the following proccesses on your computer: yeorwinurquer, faeroiufasder, and aepfoeiwjslekj.exe. Now, open your registry editor and delete the five registry values: HKEY://auwoiureaflkjhsaw, flasderojfoiajsdhf, yeorqinuerdasnoff, asdafoiuer, and quaiwrhscdfefjasquas. Now delete the files bootinefasdslkajsruets.jpg, aeroiutfhasdjkrlekjha.dll, aeroiutfdsalkjsd.exe, automaticderwoiuewecusser.flr, and ruoiuweapsoidureiruaofiusd. I shall do all of that for you. Then you will not have Frequent Cussing Virus on your system."
After "approximately 1 hour later" the virus has been removed. Microsoft Sam, Mike, and Mary have a celebration. In the end, due to "file upload restrictions," the celebration scene could not be played in it's entire form. This section also reveals the fact that Steve Ballmer is really Radar Overseer Scotty in disguise.
Episode 3
Edit
Episode 3 is thought to be the real continuation of Episode 1, as Radar Overseer Scotty seems to be gaining revenge. The episode starts as Radar Overseer Scotty creates a new antagonist named Microsoft Anna, which would hopefully help him infect more people with viruses. However, Microsoft Anna seems to be very unpopular and her voice ends up being replaced with that of AT&T Natural Voices Claire's. (Ironically, there was a mistake- it was actually AT&T Natural Voices Crystal.) Microsoft Anna then wishes upon a star stating that she wanted to be more popular, but the "wishing star" turned her into Linux Anna due to "hearing problems." Scotty and Anna break into the A1130 Broadcasting Tower while Sam and Mike are partying. Sam is once again infected with the Frequent Cussing Virus and Mike is infected with the new Gibberish Trojan, causing his speech to become unclear. Radar Overseer Scotty seems to triumph in this episode, leaving the question open to the audience. (This episode was also the first episode to feature the classic profanity line, which was blocked mostly by "soi" noises)
Episode 4
Edit
Episode 4 features Microsoft Sam reading errors as usual. When he encounters the classic "Do these pants make my @#$ look fat?" error he summons a WTF Train but brings his laptop while going on his train trip. Then he encounters another WTF error ("This error was caused by an error which was caused by...") and summons another WTF train, which crashes into the one he was currently boarding. He then gets captured by Radar Overseer Scotty and Linux Anna who infect him with the Gibberish and Chipmunk Viruses. Sam mentions attacking Scotty with a lightsaber, but never does. Meanwhile in the broadcasting tower, Mike finds a cure for the Gibberish Virus (shove the tower up his rear end) and attempts it, causing the signal to be lost and the conclusion of the episode.
Episode 5
Edit
Episode 5 is a rather short episode, which features Sam in his "temporary home" reading more errors (it was said that people with the Gibberish Trojan could still read) including one that offers the cure for the Chipmunk Virus ("smash your hand with a hammer 100 times very softly"). Mike finds Sam shortly after and tells him the cure for the Frequent Cussing and Gibberish viruses. Meanwhile, Radar Overseer Scotty and Linux Anna create a "Reverse Virus" that forces TTS voices to say things backwards. This episode also featured an interesting scene involving the Information Robots that built the broadcasting tower that goes as follows: "Mr. Information Robot Sr.: I hate Microsoft Mike for shoving the broadcasting tower up his rear end. We will have to rebuild it now. I will never be friends with any Microsoft voices.
Mrs. Information Robot Jr.: Shut up- you are being a total idiot. Even the Information Robot voices are Microsoft voices. If you are not friends with them, you will be thrown in the junkyard.
Mr. Information Robot Jr.: Exactly, Dad. Besides, Microsoft Mike, Mary, and Sam are pretty awesome. The only Microsoft voice that isn't awesome is Microsoft Anna. Hahaha."
Episode 6
Edit
In the series finale of The World of Speakonia, Radar Overseer Scotty and Linux Anna decided to make a combination of all the individual viruses that have appeared in previous episodes. Meanwhile, Microsoft Sam was making weird helicopter noises and reading error messages involving sharp edges (Mr. Information Robot was providing the message), but all of a sudden Radar Overseer Scotty mysteriously entered into the a1130 Broadcasting Tower to infect Microsoft Sam with a combo virus, and at the end of the episode, the blue crash screen of death appears for a few seconds before going into the credits. This also is rather a short episode.
Critical reception
Edit
The show recieved mixed reviews. Episode 1 recieved no comments, love-its, favorites, or praise of any kind. A1130 said, "I was thinking that this might have been a big flop. Nevertheless, I made Episode 2." A1130 tried promoting it on the Scratch website's forums, but nobody bothered to even view it. Episode 2 showed major improvements in the show and resulted in many comments and praise, as well as a love-it. Episode 3 may have been another flop, but recently it has recieved some praise.