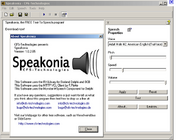 CFS Technologies is a now defunct company specializing in computer software. They have made a rather large output of programs, including SlideSaver and Verschwindiblus. However, Speakonia, a text-to-speech program using L&H and Microsoft's speech engine is arguably the most popular and most downloaded program that has ever been made by them.
CFS Technologies

Key people (?):

Chris Schuster

Type:

Private(?)

Industry:

Computer software

Status:

Defunct

Notable programs:

Verschwindbilus, SlideSaver, Speakonia
Discontinuation
Edit
Main article: Speakonia (program) 
The company's official website, http://www.cfs-technologies.com/ now displays a notice saying:
Dear Visitor,
We are sorry to announce, that there will be no more updates of software by CFS-Technologies in the foreseeable future. Unfortunately we also won't be able to offer support for our software anymore.
For your convenience the Speakonia registration form will stay available online. This will allow you to generate new registration keys to use the full potential of Speakonia.
We would like to thank you as a costumer for your long lasting support and your understanding!
Best Regards,
Chris Schuster
CFS-Technologies
with no additional links to downloading programs. However, if one spends time Google-searching and doing "Internet archeological digs," a download link to Speakonia (as well as the neccessary voice packs that go with it) can be found here: http://www.cfs-technologies.com/home/?id=1.4
External links
A download link to Verschwindibus: http://www.cfs-technologies.com/home/?id=1.1
A download link to Speakonia: http://www.cfs-technologies.com/home/?id=1.4/
References
Edit
http://www.cfs-technologies.com/
Ad blocker interference detected!
Wikia is a free-to-use site that makes money from advertising. We have a modified experience for viewers using ad blockers

Wikia is not accessible if you've made further modifications. Remove the custom ad blocker rule(s) and the page will load as expected.